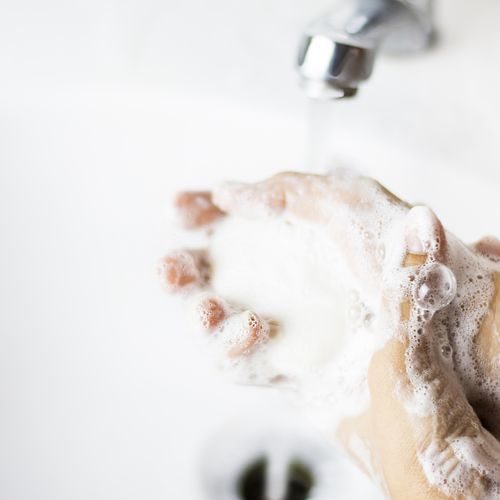 DO NOT MISS A THING, STAY IN CONTACT WITH US
Subscribe to our newsletter
FREE SHIPPING ON ORDER OF 60$ AND ABOVE • OR 12$ FLAT RATE
Solid Conditioner – Tea Tree & Mint
Solid Conditioner – Tea Tree & Mint
Product not available for online purchase
Solid moisturizing conditioner with avocado oil, vegetable protein & bamboo extract. Detangles hair, makes it silky and shiny.
Handmade
100% vegan
Delivered in a cardboard box, recyclable and biodegradable, interior is glassine
Heat sensitive product

45 g
About 50-55 uses (varies according to your use and hair length)
How to use:
Apply after shampoo on wet hair. Massage and rinse. You can rub the bar directly into the hair or for a lighter application, apply after rubbing the bar between yours hands. If necessary, untangle hair in the shower with a wide teeth comb.
Important: In between use, allow the bar to air dry away from water.
Properties of the main ingredients:
Avocado Oil : Extremely rich in oleic acid and monounsaturated fatty acids, making it one of the few oils able to penetrate the hair shaft and moisturize your hair, rather than staying on top and covering them. Strengthen hair and helps prevent breakage.

Bamboo Extract : Comprised of around 70% silica, this micronutrient brings brilliance and supports the retention of moisture which helps hair stay elastic and soft. It is also great for strengthening hair and making it thicker. Bamboo extract is well known for its soothing properties, it is filled with anti-irritant and anti-oxidant properties. It also aids in cleansing hair of old pollutants and product buildup that can dull your luscious locks.
Oat Protein : Reduces hair porosity and strengthens hair, making it healthier, brighter and easier to comb. This protein increases the ability of your hair to receive and retain moisture. Helps reduce breakage, eliminates frizz. Gluten free, GMO free.
Cocoa Butter: Helps strengthen and nourish the scalp and hair.
Subscribe to our newsletter
Do not miss our new products announcement and stay in contact with us
---
© 2023 Saponaria Soapery All rights reserved.