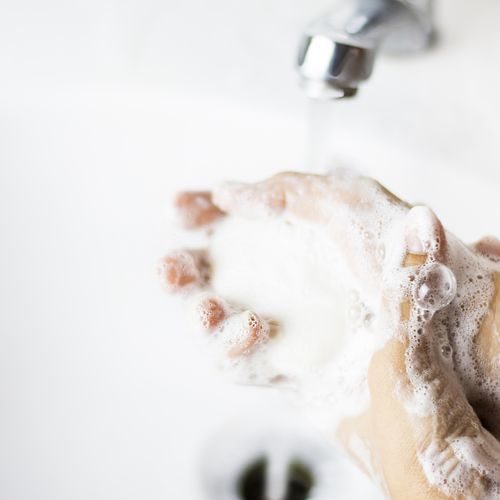 DO NOT MISS A THING, STAY IN CONTACT WITH US
Subscribe to our newsletter
FREE SHIPPING ON ORDER OF 60$ AND ABOVE • OR 12$ FLAT RATE
Solid Shampoo – Tea Tree & Mint
Solid Shampoo – Tea Tree & Mint
Formulated to help people with itchy scalp or dandruff, this is the solid version of shampoos. Practical, ecological and long lasting, that is 70 to 80 washes depending on use.
Contains Tea tea, peppermint, menthol, aloe, panthenol provitamin B5, black seed oil, rhassoul clay, coconut oil and a light conditioner to soothe your scalp and bring a shine to your hair.
Handmade
100% vegan
Delivered in a bag that is 100% recyclable, 100% biodegradable (plastic free)
Zero waste
70 g
Key ingredients:
Panthenol: To retain hydration, increase shine, strength and even smoothness. Panthenol binds to the hair, which allows it to continue to function even after washing.
Black seed oil: Anti-inflammatory, it soothes scalp conditions that cause inflammation, scaling and sensitivity. By strengthening the follicles, black seed oil slows down hair loss. Prevents, decreases or eliminates dandruff.
Rhassoul clay: Naturally cleanses the hair and scalp by eliminating impurities, toxins and accumulations without drying out the scalp. It improves hair elasticity and unblocks the pores on your scalp.
Coconut Oil: Repairs the hair fiber, gives vigor and shine. Stimulates hair growth by penetrating deeply.
Zinc: Anti-dandruff
How to use:
Wet hair and rub shampoo bar a few times on the scalp then lather with your hands while massaging scalp. Rinse well and continue with the solid conditioner.

Allow the shampoo bar to dry in the open air in a dry place.
Subscribe to our newsletter
Do not miss our new products announcement and stay in contact with us
---
© 2022 Saponaria Soapery All rights reserved.