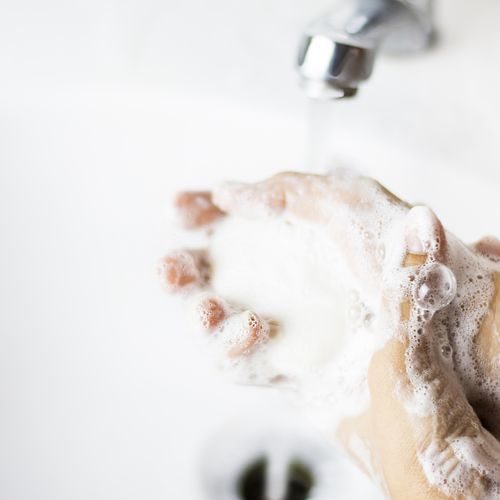 DO NOT MISS A THING, STAY IN CONTACT WITH US
Subscribe to our newsletter
FREE SHIPPING ON ORDER OF 60$ AND ABOVE • OR 12$ FLAT RATE
Gin du jardin – Bath Bomb
Gin du jardin – Bath Bomb
Gin du jardin – Bath Bomb
Product not available for online purchase
A creation inspired by the Gin du jardin of la Distillerie du Square located in Chelsea.
Complex, lively and herbaceous aroma, with juniper berries, fresh herbs, citrus and a background of cantaloupe & cucumber. Refreshing and yet energizing. Immerse yourself in your bath, close your eyes and breathe deeply to fully enjoy your experience. Colors the water a pretty garden green.
For the complete experience, try our Gin du jardin soap.
Made with Epsom salt, grape seed oil and kaolin white clay, it will leave skin soft and moisturized while soothing tired muscles.
How to store your bath bombs at home?
Moisture is the enemy of bath bombs. That's why storing them in the bathroom is not recommended (ironic, right?). The more they are exposed to humidity, the more they risk losing their fizz action. We suspect they will still be stored in the bathroom so if possible store them in their original packaging. Our bag helps to protect them from moisture and retains the freshness of the fragrance. Be aware that once unpacked, their aromas may start to fade after two to three weeks.
Avoid pretty glass bowls. The effervescence of bath bombs is the result of the reaction between baking soda and citric acid, which in water gives you that fun and beautiful fizz. By absorbing moisture from the surroundings, the bomb emits gas, which pressurizes the container if that gas cannot escape from the airtight jar. This means that the glass jar can then explode under pressure, which could be dangerous. If you insist on having your bombs in a glass jar, leave the lid ajar so the gas can escape.
Exposure to direct sunlight or bright light can discolor and affect the texture of bath bombs. Avoid exposing them near a window. Remember, we don't use preservatives, and grape seed oil has a shelf life. Usually 6 months is the maximum, but we recommend that you use them within one month of purchasing them to get the most effervescence, aroma and all the good stuff that comes with them.
If you are like a little squirrel and have stocked up, store them in a cool, dry place in their original packaging.
Additionally, you need to know that not all bath bombs are meant to float, depending on their purpose or intent. Our bath bombs are created for an unforgettable experience with incomparable softness on your skin. They contain a lot of luxurious and calming ingredients, so many don't float, but nevertheless, you won't be disappointed.
Have an awesome bath!
Subscribe to our newsletter
Do not miss our new products announcement and stay in contact with us
---
© 2023 Saponaria Soapery All rights reserved.