At Saponaria, the environment is a top priority. In recent months, we've taken steps to transition to an eco-friendlier company, starting with minimizing the packaging of all our products. In addition to aiming for zero waste, we also offer products that encourage you to reduce your daily use of plastic, like our solid shampoos and conditioners. Available in five scents, there are only good reasons to add them to your hair routine.
_________
1. Eco-friendly
Did you know that every minute, an estimated one million plastic bottles are sold around the world? The packaging of shampoos, conditioners and other hair products found in stores certainly contribute to this disturbing problem.
At Saponaria, we are proud to offer shampoos and conditioners in packaging that is both recyclable and biodegradable, without plastic.
2. Easy to use
Both the shampoo and the condition are very easy to use. Start by wetting the hair and lathering the shampoo directly on the scalp, then work your way to the tip of the hair. Rinse and repeat with the solid conditioner. For a lighter application, apply after rubbing the bar between your hands. If necessary, detangle your hair in the shower with a wide-tooth comb. After use, let the bar air dry away from water.
When travelling, once the bar is thoroughly dry, slip it into a soap bag.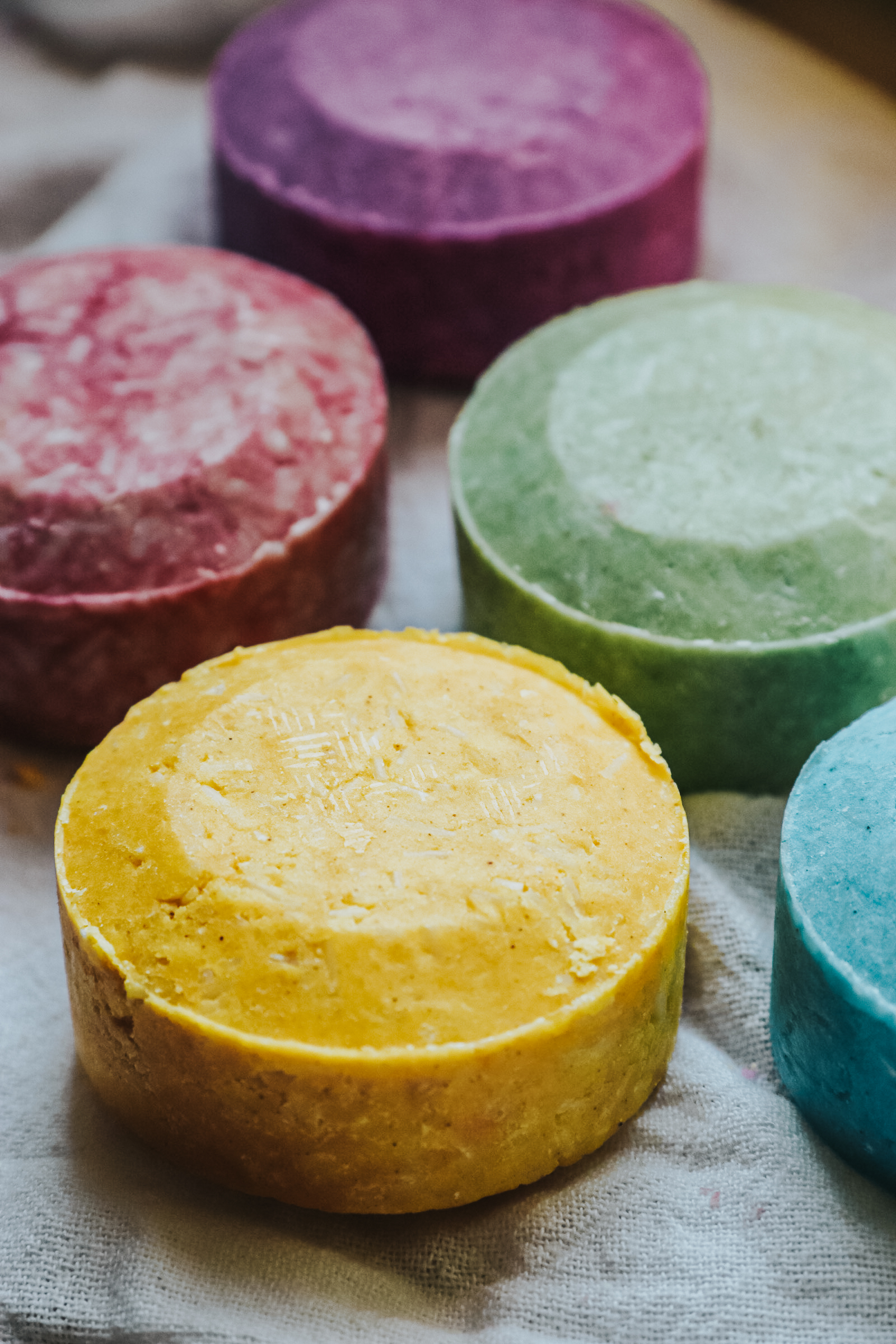 3. Long-term
Depending on how often you wash your hair, how long your hair is and how you use it, our solid shampoo will last 70-80 washes. For solid conditioner, it is estimated to last between 50 and 60 uses.
4. Natural and vegan ingredients
Our mission is to use natural products that are gentle on you and the planet. The shampoo and conditioner are vegan and not tested on animals. We choose only the best ingredients for your hair, leaving it soft, silky and clean.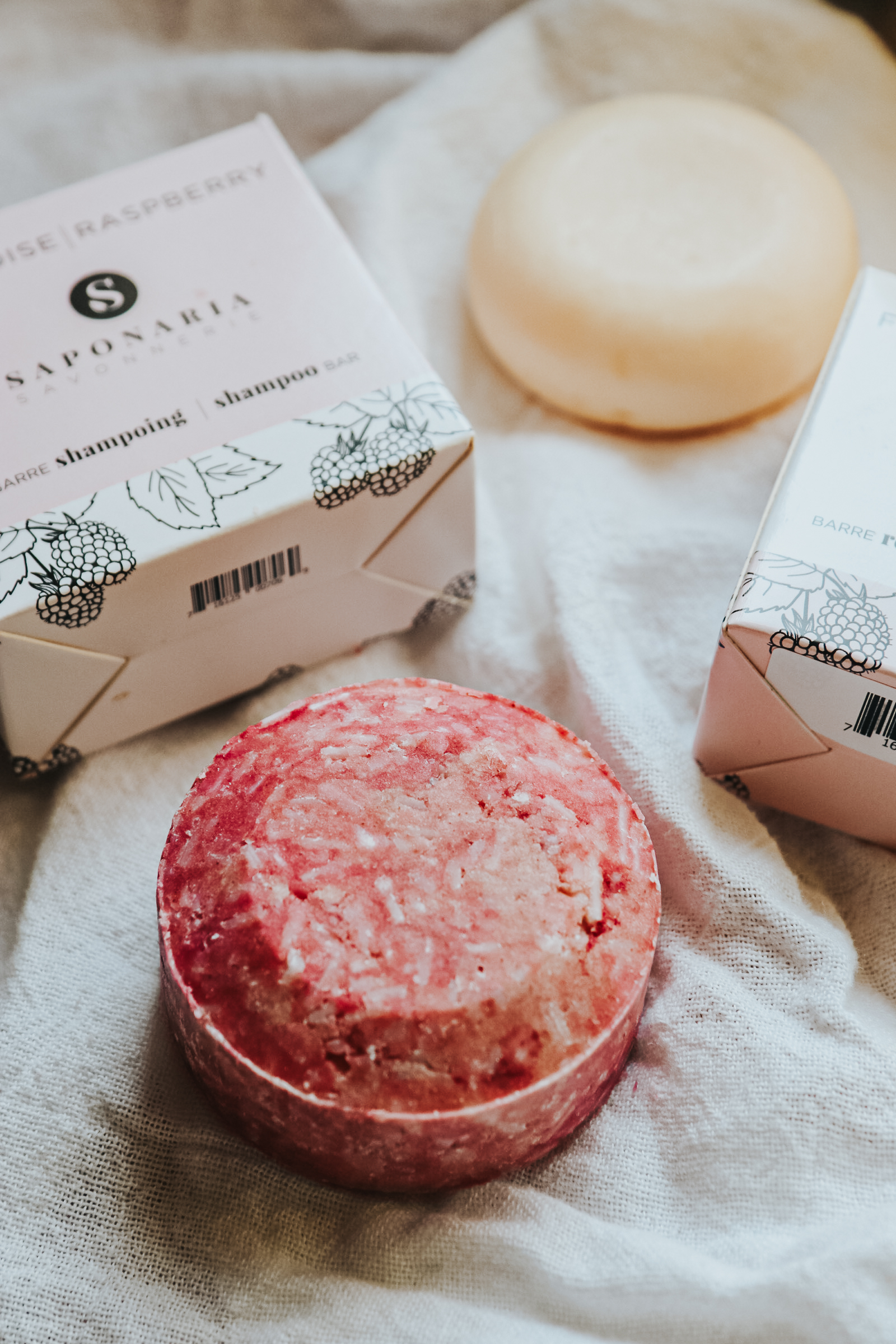 5. Lots of benefits
You'll love the rich lather of shampoo and the silky, shiny finish of conditioner.
From one product to the next, there are many benefits. Here is an overview of the properties of the main ingredients found in our shampoos and conditioners:
Panthenol: To retain moisture, increase shine, strength and even softness. Panthenol binds to the hair, allowing it to continue working even after washing.
Coconut Oil: Repairs the hair fiber, adds strength and shine. Stimulates hair growth by penetrating deeply.
Aloe Vera: Promotes hair growth, calms itchy scalp, strengthens, and repairs hair strands.
Rhassoul Clay: Naturally cleanses hair and scalp by removing impurities, toxins, and build-up without drying the scalp. It improves hair elasticity and unblocks the pores of your scalp.
Avocado Oil: Extremely rich in oleic acid and monounsaturated fatty acids, making it one of the few oils that can penetrate the hair shaft and moisturize your hair, rather than sitting on top and coating it. Strengthens hair and helps prevent breakage.
Bamboo Extract: Composed of approximately 70% silica, this micronutrient adds shine and promotes moisture retention which helps hair stay elastic and soft. Also ideal for strengthening hair and making it thicker. Bamboo extract is well known for its soothing properties, it has anti-irritant and antioxidant properties. It also helps cleanse hair of pollutants and product build-up that can dull your hair.
Oat Protein: Reduces hair porosity and strengthens hair, making it healthier, shinier, and more manageable. This protein increases your hair's ability to receive and retain moisture. Helps reduce breakage, eliminates frizz. Gluten-free, non-GMO.
Each of our shampoos is unique. While the mint and tea tree shampoo is formulated for itchiness and dandruff, the lavender shampoo soothes the scalp and invites you to relax. To know more about the specifics of each, check out the Hair category on our website.
In short, try them and be charmed by their simplicity, their benefits and their scents. Discover them on our website or in one of our points of sale in Canada.