We all have times when our skin acts up and we're concerned about its appearance. Instead of turning to a complex skincare routine, we prioritize the use of simple, natural, skin-friendly products like our Acne Skin Soap. Learn more about this soap that will do wonders for your skin.
_________
The importance of cleansing your skin daily
Cleansing is an essential part of any skin routine, both in the morning and at night. During the day, the skin protects itself from the environment (sun, pollution, etc.) while at night, the skin repairs and renews itself. It is therefore essential to cleanse the skin thoroughly and gently to eliminate the dirt, dead cells and excess sebum that accumulate on the surface and tend to clog the pores, leading to the development of comedones, more typically called "pimples". Acne can surface at any time in our lives, and not just on the face. Although some skin types are more prone to acne, we should all make cleansing a priority, regardless of whether we have normal, combination, oily, dry, sensitive or acne-prone skin.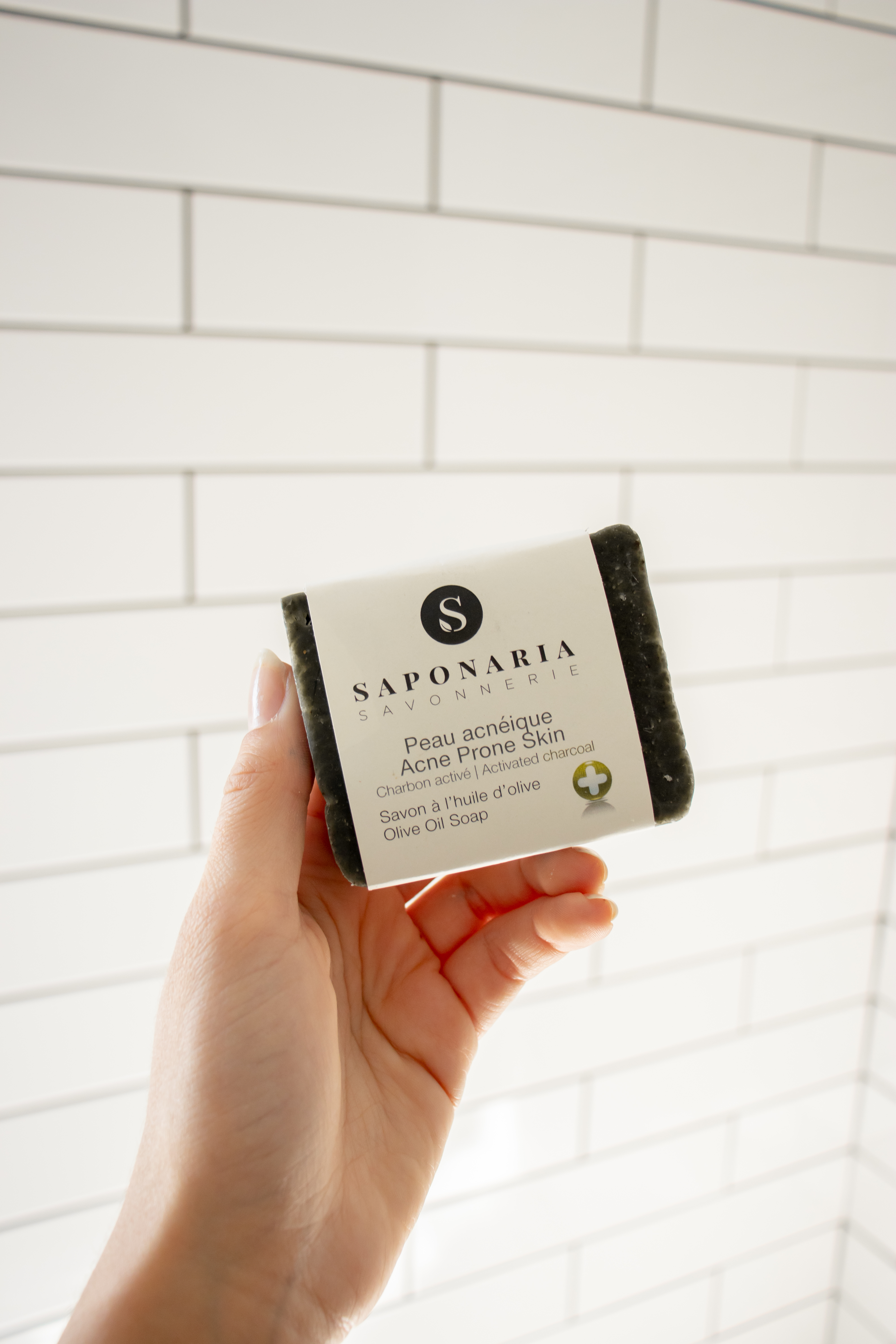 A proven formula
Our Acne Prone Skin Soap, in addition to being appreciated for its smell, is purifying, moisturizing and soothing. In making our soaps, we choose ingredients for their multiple properties. Our Acne Skin soap combines a dozen natural ingredients with numerous benefits:
Activated charcoal: Activated charcoal helps detoxify the skin and eliminate toxins and bacteria from the skin. It effectively absorbs unwanted oil and leaves your skin looking as fresh as ever. It also acts as an anti-inflammatory for the skin. Activated charcoal can slow down premature aging or discoloration that occurs by tightening pores and increasing low collagen levels. While it has the ability to remove excess oil, it can also act as a natural moisturizer for the skin. This is good news for sensitive skin that often struggles to find a soap that doesn't cause allergic reactions or irritation.
Multani Clay: The many benefits of this ingredient include removing dead skin cells, giving your skin a fresh look, making your skin less oily. Multani clay helps treat skin irritations and pimples, as well as eliminating scars.
Burdock Root: Ideal for deep pore cleansing and purifying the skin's surface.
Nettle: Known for its natural astringent properties, nettle helps treat skin problems such as oily skin, dry skin, itching and inflammation from insect bites and even eczema.
Tea Tree Oil: Effective against skin inflammations, it prevents dirt, germs and oil build-up. It even unclogs pores and decreases skin blockage, allowing you to free yourself from inflammatory skin stress, in addition to deep cleaning the skin.
Lavender Essential Oil: Lavender is naturally anti-inflammatory and antiseptic, and it can soothe sunburn and reduce scarring. These properties make lavender an effective way to reduce skin inflammation and treat skin conditions. Adding lavender to your daily hygiene routine can help you fight inflammation daily.
Lemon Myrtle Essential Oil: Acts as an astringent to help tighten pores and reduce irritation. With its antibacterial properties, this oil can help skin infections, wounds and acne.
Rosemary Essential Oil: Rosemary has anti-inflammatory properties, which can help heal skin conditions such as acne, eczema and dermatitis. It is also known to relieve puffiness or swelling.
Grape Seed Oil: Rich in linoleic acid, this ingredient is also known as an omega-6 fatty acid, which, in addition to strengthening the skin barrier and helping to reduce water loss from the skin, can help fight acne.
Rice bran oil: Rich in essential fatty acids, trace elements, vitamin E and minerals, it helps moisturize the skin and promotes skin microcirculation. It has healing, soothing, healing, repairing and decongesting properties.
Aloe

Vera: One of the most used benefits of aloe is its soothing and cooling function. It is a natural antiseptic, soothing any type of inflammation or irritation of the skin. Naturally antimicrobial, aloe helps kill bacteria responsible for acne breakouts, also reducing the appearance of pimple scars with its skin brightening qualities. Deeply nourishing, aloe also helps diminish the appearance of wrinkles and other imperfections for a more youthful complexion. This plant contains enzymes that help remove dead skin, revealing fresh, luminous skin underneath.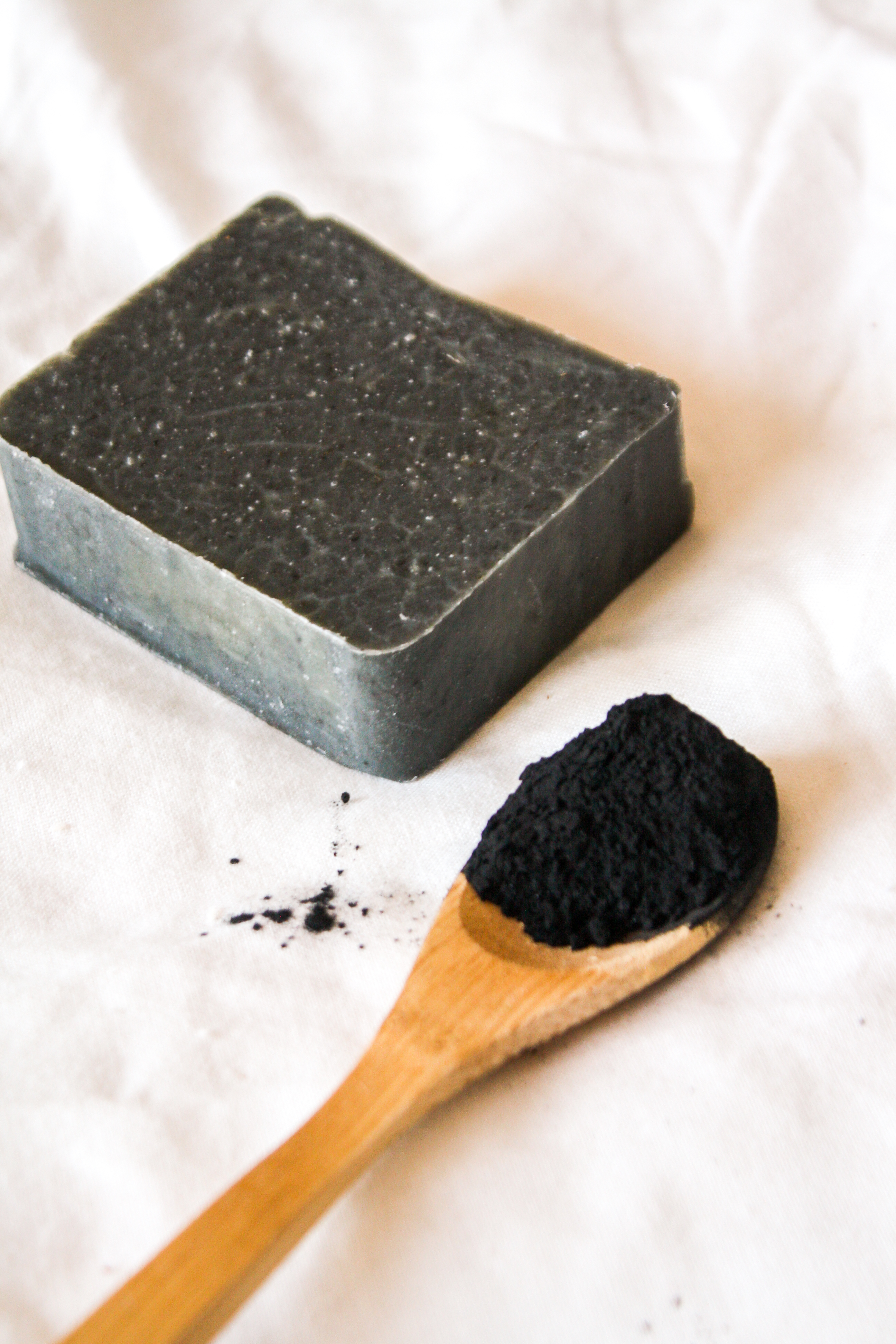 A daily essential
This is a soap we recommend you use daily, before following up with an exfoliator or anti-acne cream. The combination of these ingredients will enhance your skincare routine by giving your skin a boost of effectiveness. This soap is also effective in countering "maskne", the appearance of pimples linked to wearing a mask.
As part of our "Specialty Soaps", this product will quickly become a must-have in your bathroom, whether you use it on your face or on your entire body. For maximum benefits, we recommend using it in conjunction with a bamboo charcoal Konjac sponge, the benefits of which you can discover in this blog post.